Cory Doctorow keeps himself busy with his nonstop writing and publishing of books, his many blog postings, the work he does for Boing Boing, as well as raising a child. He is the author of a number of books including Little Brother and Down and Out in the Magic Kingdom. His latest books are Makersfor adults and For the Win for young adults.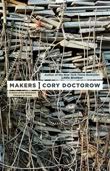 In this interview, Cory Doctorow talks about what is was that got him into writing, how he got started with Boing Boing, where he got his idea for Makers from, and the new book he's working on. He also talks about where he thinks technology and the Internet are head in the near future. Featured in the episode are my reviews for Makers, For the Win, Under Heaven by Guy Gavriel Kay, and Audrey's Door by Sarah Langan.
Please join me next time, on July 1st, for a written interview with graphic novel artist and writer Brian Wood, who is the creator and writer of the graphic novel series DMZ and Northlanders.
Until then, keep reading!
Alex C. Telander.