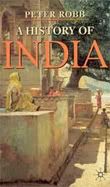 When I first received this book, I was a little suspicious of it.  It proclaims to be a history of India, and yet it is 344 pages long, which seems pathetic when considering a country credited with inventing Buddhism, the number zero, as well as  many different systems of law, government, and existence that we would not have today if India had not evolved as a country and culture in this specific way.
Robb is a professor and maintains these facts in his long-winded writing form, and seems to be focusing more on an urban history of culture and society, a human geography that strays from an actual history.  A History of India is more of a report on people, specializing on the last hundred years, instead of India's ancient existence, which I consider far more interesting, considering how important this country was in shaping the civilized world.
Originally published on December 9th, 2002.
Originally published in the Long Beach Union.