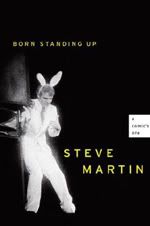 Actor/writer Steve Martin's latest book, Born Standing Up, is neither a novel nor a complete autobiography.  It is an insightful and entertaining read about Steve Martin's rise to fame through comedy, starting during his teen years and leading up to his success as an actor in blockbuster movies.
The book begins with Steve's birth in a classic American family, with a supportive mother and a father who always wanted to pursue a career in comedy but never did, sticking to a more "productive" and safer job.  From a very young age, Steve felt the need to be on a stage, entertaining an audience whether it was with comedic stories, amusing jokes, or slapstick magic tricks.  When Steve was living with his family in Anaheim, CA, on July 17th, 1955, Disneyland opened its doors for the first time.  He immediately went over and managed to get a job selling programs to park attendees.  Steve Martin soon became firmly established as a Disneyland employee, climbing the ranks until he took the job as an entertainer performing tricks at the magic shop in the park.
In his later teen years, Steve began working with different groups in stage comedy.  It was the start of his comedy career, when he was barely known, but would never give up.  After falling in love with and falling out with Stormie Sherk, later known as Stormie Omartian, he pursued an interest in philosophy, attending Cal State Long Beach and then transferring to UCLA due to where he was performing.  Eventually it became too hard for him, and he wanted to dedicate himself more to his slowly growing comedy career.
He set a goal for himself: if by thirty he hadn't made it, he would change careers.  He traveled across the country, getting work wherever he could, making friends and contacts.  Thirty came and went, but he didn't quit.  His name became known, his audiences grew larger, and his routine became longer and funnier.  It was at the point when he started drawing thousands that he knew he'd made it, as well as recording a number of comedy albums that were bestsellers.  He also began performing on a new stand-up live comedy TV show called Saturday Night Live.
It was during 1980, when Steve Martin was performing an astonishing number of shows a week, his energy and stamina sapped, the audience numbers beginning to shrink, that he knew his stand-up career was over.  It was a brilliant move by Martin, to stop when he was still at a relative high point.  He turned to movies, using some of his stage material and working on a screenplay for a movie that would eventually be called The Jerk.  The movie was an instant success, becoming a cult favorite, and was the perfect start to Steve Martin's movie career.
While Born Standing Up provides a detailed biography to Steve Martin's stand-up career, he also writes about his relationship with his family, and more importantly with his father, and how this changed during his life.  Filled with memorable and some hilarious photos, Born Standing Up is an excellent, short, but very entertaining biography that will make the perfect gift for Christmas.
If you liked this review and are interested in purchasing this book, click here.
Originally written on October 21st 2007 ©Alex C. Telander.