I've been making this dish for a couple of years now.  It's the perfect meal for providing some hearty and filling food on a hot day that doesn't heat up the kitchen too much and doesn't require too much work.  My wife found the recipe from the Food Network site and it goes by the name of Middle Eastern Chicken Sloppy Joe.  We just call it Middle Eastern Sloppy Joe, because it's shorter and also we use turkey instead of chicken, because we think it tastes better.
Here's the link to the recipe at the Food Network site.
INGREDIENTS:
1 tablespoon extra-virgin olive oil
1 bunch scallions (white and green parts separate), thinly sliced
1 teaspoon ground cinnamon
1 teaspoon kosher salt
Freshly ground black pepper to taste
2 cloves garlic, minced
2 medium tomatoes, diced
1/4 cup golden raisins
1 pound lean ground chicken
1/4 cup plain low-fat yogurt
1/3 cup pine nuts, toasted
4 (4-inch) whole wheat pitas with pockets, tops trimmed and warmed
Suggested servings: sliced tomato and cucumbers
DIRECTIONS:
Heat olive oil in a medium skillet over medium heat, add the scallion whites cinnamon, salt, and pepper, and cook until tender, about 5 minutes. Stir in the garlic, tomato, and raisins and cook over high heat until mixture is almost dry, about 6 minutes. Add the chicken and cook stirring until meat is cooked through, about 5 to 6 minutes. Remove from the heat and stir in the green part of the scallions, yogurt, and pine nuts. Serve mixture stuffed into warm pita with tomato slices and cucumber slices.
Here's how it looks simmering with the initial ingredients of scallions, raisins, garlic and tomatoes, along with the cinnamon, it creates a delicious smell.
Next the turkey gets added and cooked.
The pine nuts get toasted for about three or four minutes; just keep your eye on them so they don't burn.
And finally the nuts are added with the plain yogurt and it's all mixed together and left for a few minutes to stew.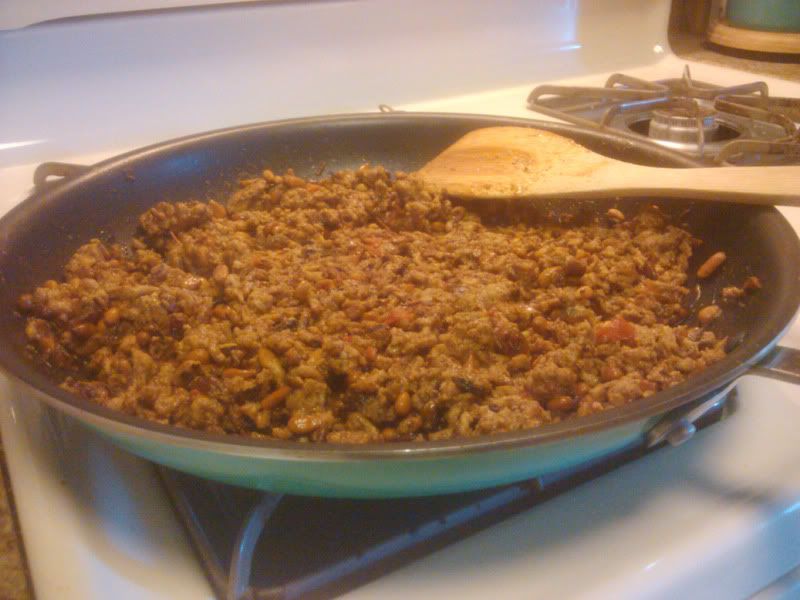 And then you slice up your pita, put as much as you want in it, and enjoy!