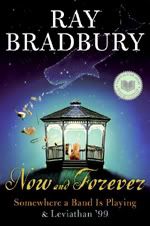 Now and Forever, the latest book from one of the best writers of our time, Ray Bradbury, brings together two novellas that have never been published in book form before.  While the two have little in common, they show two sides to Bradbury's incredible imagination, giving you a taste of his greatness as a writer and story teller.
The first novella, Somewhere a Band is Playing, opens with the main character, James Cardiff, getting off a train that barely stops at a tiny station in the middle of nowhere.  But there is something special about Summerton, Arizona that makes Cardiff immediately fall in love with it.  As he enters the town and meets the first person, in the background is the quiet sound of a band playing.  In Summerton Cardiff discovers a quiet, peaceful place where one could settle down and feel very much at ease.  But the longer he spends there, the more mysterious it becomes.  He soon discovers that there are no children here, no one under twenty for that matter, that everyone is an adult, many of them old.  Cardiff then notices that there are no schools; that it seems like there have never been any children here.  Also that there are no hospitals or apparently any doctors, that people simply don't get sick here.  He finally finds the cemetery but discovers that it is little more than a prop, serving no purpose except to reassure visitors that it exists.  Cardiff finally forces a confession out of the beautiful woman he has befriended who tells him what is going on and what is the true meaning behind Summerton, Arizona.  It is a story that defies belief, and yet makes so much sense.
While the first novella is a masterpiece in its own way, the second, Leviathan '99, is one also, but in a totally different manner.  It is the year 2099 and the story is Moby-Dick, except characters names are different – of course, not Ishmael – and the ship does not travel across the ocean in search of a white whale, but across the darkness of space in search of the white meteor that has been plowing through galaxies.  The characters of Captain Ahab and Queequeg exist here with different names and are also alien beings.  Bradbury outdoes himself by not only distilling the story of Moby-Dick into a hundred-page novella, but by perfectly imitating the pacing, language and feel of Moby-Dick in his story with the characters' thoughts and actions.
Now and Forever is a collection of two incredible stories that serve as a perfect introduction to the greatness of Ray Bradbury, not just one of the greatest science fiction writers of our time, but one of the greatest story tellers.
If you liked this review and are interested in purchasing this book, click here.
Originally written on September 8th 2007 ©Alex C. Telander.